Read Time:
16 Minute, 17 Second
Travelling across several time zones, getting jet-lagged and posting your photos on Facebook with exotic landscapes in the background are not the only perks of a foreign internship. A foreign internship not only gives you the opportunity to work on a new research project but also exposure to a new culture.
My foreign internship during the summer of 2017 helped me bag a spot in the EIT Health-funded master's program in Biomedical Engineering. You can read how my project experience in the French lab helped me succeed in the interview in the article below.
Read: CEMACUBE-EIT Master's Program in Biomedical Engineering
Although several foreign internship programs for Indian students like DAAD, MITACS, Charpak, and NTU-India Connect are quite popular and well known, there are several programs that are not so popular or known to students. Hence, I have compiled a list of 32 foreign internship programs for Indian engineering undergraduate students (2022-2023).
Related: My Summer Internship Experience in France
Note: I have ignored internship programs for arts and other humanities streams in this article.
1. ETH Zurich Summer Internship
ETH Zurich is one of the top 3 universities in Europe and ranks 6th in the world. The university boasts of having the affiliation of 21 Nobel laureates, 2 Field Medal winners, and 1 Turing Award winner. Albert Einstein happens to be its most famous alumni.
It's definitely a great experience to intern in this Swiss university.
The computer science department of ETH Zurich offers paid summer research internships. A list of projects is listed out on their site along with the names of professors. You can directly contact them and if your profile is of interest to them, you would be interviewed. You can have a glance at the internship program here.
2. EPFL Summer Research Internship Program
EPFL is another Swiss University which ranks among the top 10 universities in Europe.
The School of Computer and Communication Sciences provides internship opportunities in the summer to both undergraduate and postgraduate students. Students from Computer Science, Electrical, Electronics, and other related disciplines are eligible to apply.
Typically, students are a part of a large research project and the interns are paid a stipend to cover their living expenses during the stay.
For the Indian applicants only:
Decision On Acceptance: 15 December
Note: To be eligible for the internship, you should be enrolled in a bachelor's or master's program.
There is also a Summer Research Program For Undergraduate Life Science Students. The deadline for this program is January 31. Currently, this program is on halt due to the COVID-19 pandemic.
3. Ecole Polytechnique International Internship Program
Ecole Polytechnique is a top-ranked French engineering university that features among the top 100 universities of the world in the QS World Ranking. It is a prestigious French Grande Ecole. The internship program at Ecole Polytechnique gives you an opportunity to carry out research for 3-6 months.
The list of projects for the next summer is usually updated by the end of November. It is advisable to get a nod from the professor, prior to applying for the internship program.
Duration: 3-6 months
Stipend: €550/month
Perks: Cheap accommodation in CROUS
Application Deadline: mid-February (check for updates)
You can apply for the internship here.
4. Aalto university Internship Programs
Aalto University is an excellent Finnish university which was established as a merger of three major universities in Finland. It excels in multidisciplinary research due to its numerous collaborations with international universities and industries.
Aalto Science Institute AScI Internship Programme gives an opportunity for foreign undergraduate students to get a first-hand experience with research in their areas of interest. This internship is not only meant for pure science enthusiasts but also for budding engineers alike.
Deadline for Application: Mid-January
Application Start: December
Interviews and Selection: February
Duration: 12 weeks (June to August)
Minimum Salary: €1510/month (Check for the revised salary on their website)
5. MITACS Globalink
Excited about spending your summers in Canada and gaining practical research exposure? The MITACS Globalink program is definitely for you.
MITACS Globalink Research Internship (GRI) program allows students from India, China, Brazil, and Mexico to undertake research projects with a Canadian faculty.
Duration: 12 weeks (anytime between May-October)
Minimum GPA: 8.0/10 or equivalently 80%
Application Deadline: November or early December
Scholarship: Stipend (~CAD 200/week)+Accommodation Fees (~CAD 30/day)+ Visa Fee (~CAD 150) +Airfare (~CAD 1500). Total funding amounts to nearly CAD 7000.
Additional Perks: Health Insurance, Student Fee in University (if any)
You can apply for this foreign research internship program here.
Here are few tips to improve your SOP for the internship. Give it a read.
Read: 5 Common Mistakes to avoid in your Statement of Purpose (SOP)
Here is what the students have to say about the program.
Have you ever dreamt of working in a NASA lab?
Well, the Summer Undergraduate Research Fellowship (SURF) program is one of the most prestigious internships for an engineering undergraduate student which gives you the chance to work at NASA Jet Propulsion Laboratory (JPL) for your summer internship.
The eligibility for the program requires you to have an overall GPA of at least 2.5/4.0 (usually Indian university grade equivalent of 6.5/10). However, realistically, you would need a grade above 7.5/10 or 75% to stand a good chance.
As a part of the internship application, you have to write a research proposal. If you are selected for the program, you would have to apply for a US J1 visa.
Duration: 10 weeks
Stipend: $6,420 for the entire period
Perks: Weekly seminars by CalTech professors, professional development programs, and weekly student-faculty dinners
Read: CalTech SURF Internship experience
7. NTHU Summer Internship Program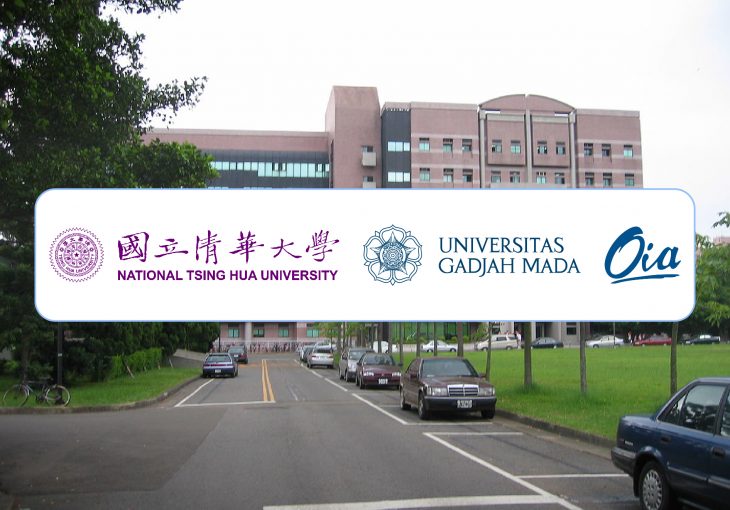 National Tsing Hua University is the top-ranked and most prestigious university in Taiwan. It is ranked within the Top 200 in QS World University Rankings. It has a distinguished alumni base that includes three Nobel Laureates.
The NTHU Internship program is a foreign internship program for Indian students in chemical, mechanical, and biomedical engineering. There are also some other innovative research projects in nanotechnology which may be of interest to students in Materials Sciences.
Details of NTHU Foreign Internship for Indian Students:
Internship Duration: mid-June to mid-August (2 months)
Application Deadline: mid-January
Stipend/Perks: Round-trip air ticket up to (INR 35,000), Free accommodation, field trips to places in Taiwan
You can apply for the internship here.
Related: My Summer Internship Experience in France
8. KU Leuven Internship Program
Every year KU Leuven invites exceptional undergraduate and Master students for a research experience in the science departments for a short period. The application starts in December and closes around mid-January. You can find more about the program here.
One can intern for 3-6 months. A modest stipend is provided for some internships. The intake can be as low as 5 students for the summer internship. The number of internship position varies year to year and subject to the floated projects by faculties.
Duration: 3-6 months
Intake: 5-10 students (varies)
Application Deadline: mid-January
KU Leuven is one of the best universities in Europe. Currently, it ranks 47 in the Times Higher Education World University Rankings. Located close to Brussels in Belgium, KU Leuven boasts of excellent faculties and research labs.
Research Internships for Young Academics (RIYA) is a program for Indian Mechanical engineering undergraduates to undergo a research internship experience at Ohio State University.
One should be in his third year of Bachelors or Integrated-Dual Degree programme to be eligible for the internship.
Duration: 10 weeks
Stipend: $5000
Deadline: early September
Perks: Student's faculty receives $500
Intake: 4-8 students
Read: RIYA Internship Experience
10. Robotics Institute For Summer Scholars, CMU
Carnegie Mellon University has one of the finest Robotics research facilities in the world. I am a big fan of the founder of the institute, Andrew Carnegie who happens to be the richest man ever. I was inspired by Carnegie so much so that I had applied for postgraduate study there and secured admission into its MS program in Biomedical Engineering, despite knowing that I couldn't afford it without a scholarship.
Nevertheless, Robotics Institute Summer Scholars (RISS) program is your chance to spend eleven weeks in the institute and immerse in a diverse cohort of scholars in cutting-edge robotics projects. These projects have a real-world impact and the exposure trains you quite well for your further career.
Application Deadline: January 15
Program dates: May 27 to August 7 (Keep checking for updates)
Recent research projects can be explored here.
This is a great foreign internship for Indian engineering students interested in postgraduate MS in the US in the field of robotics. You would need to apply for a J1 US student visa upon acceptance.
Related: My Summer Internship Experience in France
11. HSCI Internship Program
The Harvard Stem Cell Institute (HSCI) Internship Program is a great research opportunity for students interested in the area of stem cells and regenerative medicine. This internship is suitable for a candidate pursuing Biomedical Engineering, Basic sciences (like chemistry, physics, or biology), or closely related fields.
Harvard Stem Cell Institute (HSCI) has 8 affiliated hospitals and research centers. Each student intern is placed in one of these 8 labs/centers. If you get selected for this program, you can get an opportunity to work in areas like lab-on-a-chip, assay handling, gene editing, predictive modeling for proteins, bioprinting, and many other interesting areas.
This is a very competitive internship as the selection depends on your previous research experience, the letters of recommendation from your professors, and your personal motivation statement.
This Harvard Research Internship program was discontinued in 2017 and re-started in 2022. It is open for applications in 2023.
You can apply to this program here.
12. CERN Summer Student Program
13. DAAD Wise Fellowship For Internship in Germany
14. Charpak Lab Scholarship For Internship in France
Charpak Research internship gives you an amazing opportunity to intern in France. France has over 1500 CNRS labs performing research in leading areas of science and engineering. The Charpak internship is meant for science, economics and engineering undergrads. France has some of the best business and engineering schools in the world, making it one of the most popular destinations for international students. So, you can secure an internship in your area of interest and apply for the Charpak Lab scholarship.
Duration: May to July
Number of students selected: 13 (earlier 26) But this number may vary
Application Deadline: early March
Application Start: January
Results: early April
Stipend: €800/month for labs in Paris and €650/month for labs outside of Paris
Other Benefits: Visa fee waiver
Read: Essential Documents and Services for a Summer Internship in France
Related: My Summer Internship Experience in France
Related: How to Find Paid Internships in France Without Charpak Lab Scholarship?
15. MTBI Summer Program, Arizona State University
16. CERN Openlab for Computer Science Undergraduates
Amgen Scholarship is perhaps a very prestigious foreign research internship scholarship. There are several editions of Amgen by regions like Amgen Asia, Amgen Canada, Amgen Australia, Amgen US and Amgen Europe.
Amgen Asia presents a great opportunity for foreign internship for Indian engineering students. For the 2020 program, Amgen Asia has 60 intakes with research opportunities in 4 top universities of Asia, namely, National University of Singapore (NUS), Kyoto University (South Korea), Tsinghua University (Taiwan) and The University of Tokyo (Japan).
Amgen Europe has 75 intakes in 2020 with opportunities in 5 universities which includes the prestigious Cambridge University and LMU Munich.
Deadline: February first week
Note: The internship dates vary from one university to another but typically last for 3 months.
18. SURP, CHUK
19. IVISP, KHUST
21. Adelaide Summer Research Scholarships
22. Viterbi India Internship, University of Southern California
An increasing number of outstanding universities and colleges in Taiwan now offer short term professional and research internship programs for Indian talents.
Some TEEP foreign research internship programs are suitable for undergraduate students; others are suitable for postgraduate students. Some are professional internships, some are research internships. The practical focus depends on the particular TEEP program that a university is offering.
TEEP programs are available in such fields as ICT (Information Communication Technology), International Consulting, Internet of Things (IoT), Semiconductor, 5G Wireless Communication, Advanced Manufacturing, Wisdom Machinery, Green Energy, Biosensors, Logistics Management, Molecular biology, Smart health care, Mandarin lessons, cultural experience courses.
TEEP@India offers India Talents an exciting opportunity to experience Taiwan's quality higher education and make personal connections with the Asian job market.
24. TIGP-IIP, Academia Sincia, Taiwan
Hargobind Khorana won the Nobel Prize in Biology in 1968 for his contribution to the human genome project. The Indo-US Science and Technology Forum (IUSSTF) and the Department of Biotechnology (DBT) jointly offer this scholarship program honouring the great scientist.
This internship is highly competitive and usually requires the applicants to have a higher Grade Point Average (GPA) by their Pre-Final year in Bachelors and Masters.
Duration: 10-12 weeks (May-July)
Number of students selected: 40-50
Application Deadline: early November
Application Start: September
Results: March
Perks: Stipend, Air fare, Health Insurance
You can read the testimonials as well as find the link for applying to the Khorana Scholarship in the web page of Win Step.
Related: SOP Sample from Khorana Scholar
Mechanobiology Institute (MBI) offers internships of 3 to 6 months to introduce outstanding candidates to interdisciplinary research in Mechanobiology.
Interns will receive the status of 'visiting student' at the Mechanobiology Institute and receive a temporary visitor's user ID for the National University of Singapore internet and temporary access to MBI premises.
The Mechanobiology Institute (MBI) has already partnered with a number of universities and institutes worldwide. Existing Memorandum of Understandings (MoUs) have been signed with 2 Indian institutes:
The National Centre for Biological Sciences, Bangalore, India
The Indian Institute of Science Education and Research, Pune, India
29.1. Financial Support
MBI will provide stipends to interns at the rates suggested below:
Undergraduate Student – S$1,000 per month
Graduate student – S$2,000 per month
However, there are no housing benefits. The intern has to seek his own accommodation. Travel and medical insurance, visa fees and other expenses during stay in Singapore would be borne by the intern himself.
29.2. How To Apply?
The applicant has to find a supervisor who is willing to sponsor him/her. One can find a list of PIs and Co-PIs at mbi.nus.edu.sg/research/faculty/. Once you have found a sponsoring supervisor, contact mbigraduate@nus.edu.sg
The administrative division (MBI Graduate Office) then handles the further processing of application and visa.
This a programme is sponsored by the Indo-US Science and Technology Forum (IUSSTF) and Department of Science and Technology (DST) to pursue international internships in the US. In the previous years, students have worked as research interns in universities like Harvard University, Case Western Reserve University, Purdue University, Princeton and Carnegie Mellon University.
This programme has student intakes from only Tier I universities like IITs, NITs, IISc, IIITs, IISERs, and NISERs. However, this international internship is open to students of other Indian universities for the namesake. Applications are accepted through nominations only, that is two applications per stream, per department, per institute.
If you are pursuing Biomedical or Biochemical engineering, you can apply for the Khorana Scholarship, instead of SN Bose Scholarship.
Scholarship: Stipend, Health Insurance, Air Fare
Student Intakes: Nearly 50
Application Deadline: October 31
Internship Duration: May -July (3 months)
31. NIG Internship, Japan
This is a summer research internship program in the field of 'Genetics'. It is offered by the National Institute of Genetics/Department of Genetics SOKENDAI. The students in the pre-final year of their bachelor's program are eligible to apply.
The interns have an opportunity to get training on scientific research and scientific communication. They have a high chance of doing a Ph.D. at the National Institute of Genetics, post successful completion of their Bachelor's degree.
This is a highly competitive internship as only 12 students out of 2200 applicants were selected in 2021.
Nevertheless, the perks and remunerations of this internship program are not much as compared to other programs. The interns are provided only the airfare, travel insurance, and accommodation at the institute's guest house. The interns are not given any stiped. So, an intern would have to spend on his food and visa applications from his own pocket.
Further, the duration of the internship is just too less to actually get involved in any serious research.
Nevertheless, it is a nice foreign internship opportunity for Indian students as it gives exposure to cutting-edge research in Japan.
Here is a summary of the NIG Internship program.
Scholarship: Airfare, Accommodation, and Travel Insurance
Student Intakes: 12
Application Deadline: January first week
Internship Duration: mid-June to July (5 weeks)
32. KAUST VSRP Internship Program
Saudi Arabia may not be the first choice of study destination for most Indian students as it didn't have any well-known university before 2010. King Abdullah University of Science and Technology (KAUST) is a young university that was founded in 2009.
In such a short time, the university has emerged as a world leader in doing cutting-edge scientific research. As per the 2022 QS World University Rankings, KAUST stands at #109.
I would definitely recommend current graduates looking for a summer internship program to apply to KAUST.
The Visiting Student Research Program (VSRP) at KAUST offers 3-6 months of internship throughout the year. There is also a possibility of doing a virtual research internship.
Students with a GPA above 3.5/4.0 or roughly 8.5/10 (as per the Indian grading system) and TOEFL score above 80 are eligible to apply.
Scholarship: $1000/month, Visa, Airfare, Accommodation, Health Insurance
Student Intake: 130 (as per 2021 stats)
Application Deadline: Throughout the year
Internship Duration: 3-6 months
---
Share this story with your friends.
Follow the blog on Facebook and Twitter to know more detailed information about MS in Europe, MS in US, and other career opportunities and skill-building.
Note: Summer Program of Internship and Korean Experience (SPIKE) is an intensive summer internship that was offered between 2015-18. Although the program is currently marked closed as of 2022, do check for updates in the future.
---
Latest posts by SurajPanigrahi
(see all)