Read Time:
11 Minute, 22 Second
Romania is a very underrated travel destination in Europe. One of the many reasons is the spread of misinformation. A lot of blogs I read before traveling to Romania were written by American tourists or mostly Western travelers who may not need a visa to travel in Romania and they have a very different approach to travel places. Moreover, there are several other nitty-gritty details that I want to jot down based on my experience. I hope these 20 ultimate budget travel tips to Romania would help you have a better experience.
1. Romania Visa
Non-European and Non-US citizens might need visas to travel to Romania. Since Romania is not a member of the Schengen area, you would need a Romanian short stay tourist visa. You can also travel to neighbouring Moldova and Bulgaria with a short stay Romania tourist visa.
However, you don't need a visa to travel to Romania if you hold a valid double or multiple entry Schengen visa.
I am an Indian passport holder residing in Ireland. Since Ireland is not a Schengen country, I traveled to Romania using a double-entry Schengen Visa C (Tourist).
2. Border Control
Border control in Romania leads to significant delays to the schedule of trains. I took the night train from Budapest Keleti station to Brasov. The night train to Brasov and Bucharest starts at 19:10 from Budapest Keleti and arrives in Brasov around 10 AM in the morning.
You can see my passport stampings in the photo above. My passport was stamped around 11 PM at Lőkösháza, a village on the Hungarian side of the border. A passport inspector got into the train and knocked on my compartment. He checked my EU COVID digital vaccination certificate and Hungarian visa.
There was another passport stamping at Curtici, a small town on the Romanian side of the border. The Romanian visa officer was much nicer and more friendly.
The train stopped for nearly 25 minutes on each side of the border. So, be prepared to lose nearly 1 hour for border control, if you are traveling by train.
Similarly, there is border control and passport stamping at Giurgiu, Romania, and Ruse, Bulgaria while traveling to Bulgaria.
I strongly believe that Romania and Bulgaria should be members of Schengen as it would simplify the border control, save time for tourists and also reduce additional costs for both countries.
3. Romanian Lei, Forex, Cash and Digital Payments
Romania is a member of the EU but it doesn't use Euro as its currency. The currency of Romania is Lei.
There are countries like the Czech Republic, Hungary, and Poland which don't use Euro but a lot of shops accept Euro. In fact, several tourist destinations in Prague and Budapest have their prices listed both in Euro and the local currency. However, it is not the same in Romania.
A lot of places like massage parlours, buses, small bakeries, and other small shops want you to pay in cash. They won't accept Euro. So, make sure to have some Lei in hand.
In 2021, when I visited Romania, the exchange rate was €1=5 Lei. However, when I withdraw the money from ATM, the conversion rates varied from 4.6 to 4.95 Lei for 1 Euro. Most of the ATMs in Romania actually display the exchange rate before you agree to withdraw the cash. So, if you are in the typical Romanian town or city center, you can try a few ATMs to check the best exchange rate.
You can exchange your Euro or Dollar for Romanian Lei in the airports. There are also many forex shops in Brasov and Bucharest city center which offered a good exchange rate of €1=4.92 Lei (during my trip to Romania in 2021). That was around 1.5% currency conversion fee.
Tip: Don't lose more than 2% on currency conversion charges. Anything more than 2% currency conversion is a rip-off. But don't buy forex from private individuals offering awesome rates, too good to be true.
It is, however, interesting to note that Romania is one of the few countries in the EU where digital payments and digital wallets are growing over 10% year over year. As per the PayU statistics, the penetration rate for online payments in e-Commerce in Romania is only around 36% but it is increasing year-over-year.
4. Tipping Culture in Romania
I had explored most of the countries in Western Europe before visiting Romania. Tipping is not mandatory in restaurants, bars, cafes, taxis, spas, or salons in Western European countries like Germany, Ireland, Netherlands, or France.
On the other hand, in the US tipping is somewhat obligatory although it is not a law. You may be chased by the waiter if you leave the restaurant without a tip demanding to know why.
In India, tipping a waiter of a decent restaurant or the hotel bellboy is somewhat expected although it is not mandatory. In India, the waiter or the bellboy may pester you time and again selling different services but he will not ask for a tip directly.
Talking about Romania, the per capita income or salaries of people is significantly low compared to the Western European countries. Therefore, tipping is generally expected but it is not mandatory.
Do you know that Romania introduced a tax on tips in 2015?
I had a slightly bad experience in Romania when I took a Free Now night taxi in Bucharest. It wasn't the first time I took a taxi in Romania. I have traveled to over 20 countries (mostly in Europe and Asia) and I have never really been asked for a tip for taxi rides. It was the first time a taxi driver asked me for a tip for a 7-8 minute or 2.5 km taxi ride in Bucharest city center, with the taxi fare amounting to €2.5 or 12 Lei. The taxi driver didn't open the locks of the door unless I paid him the tip.
I stood my ground and didn't pay him any tip. I told him that I have never paid a tip to anyone for such a short taxi ride and I have been taking taxis in Romania for the last 3 days. He was furious, rebuked me but later opened the lock of the door in a disgruntled manner. Thankfully, things didn't go any downhill from there.
In 2017, the Bucharest mayor passed a law that forbids taxi drivers to ask for tips.
So, if you are a solo traveler and a taxi driver asks for a tip on a night taxi, you might consider paying 10% of the fare as tip to avoid verbal battles. I think I should have paid him 10% of the fare. Nevertheless, it's your choice.
Well, it was just one bad experience but the travel in Romania is very safe and Romanians are very hospitable people. I have had many nice experiences.
Coming back to the tipping etiquettes, if you are dining in a restaurant (not a takeaway) in Romania, it is expected to pay 10% of the bill amount as a tip to the waiter/waitress. You may tip the taxi driver for long-haul taxi rides over 8-10 km.
5. Hospitality and English
Romania is a country known for its hospitality. People are friendly in general. So, make an effort to talk to the locals. They are usually happy to share details about the place.
Romania sees over 10 million foreign tourists every year. Tourism contributes nearly 3% to the overall GDP of Romania. Therefore, you can find a lot of locals in touristy places like Brasov, Timisoara and Bucharest speak English.
The instructor at Tampa Telecabina Brasov gave the safety instructions in both Romanian and English. Even my Airbnb hosts at Brasov and Bucharest spoke fluent English. I went to a massage parlour in Brasov just for the sake of exploring and the masseuse over there spoke fluent English.
I met two lovely girls (in the picture above) during my day trip to Sinaia. They gave me a tour of the town and told me interesting facts and the history of Romania, all in pretty fluent English.
According to one study in 2016, 31% of Romanians can speak English as a second language. In fact, according to another study, Romania ranks 16th in Europe and 20th in the world for its English proficiency as a second language.
So, if you are in cities like Bucharest, Brasov or Timișoara, the number of English speakers is much higher than 31%. So, it is very easy to travel in Romania. It is easy to travel in Romania with English.
6. Taxi Rides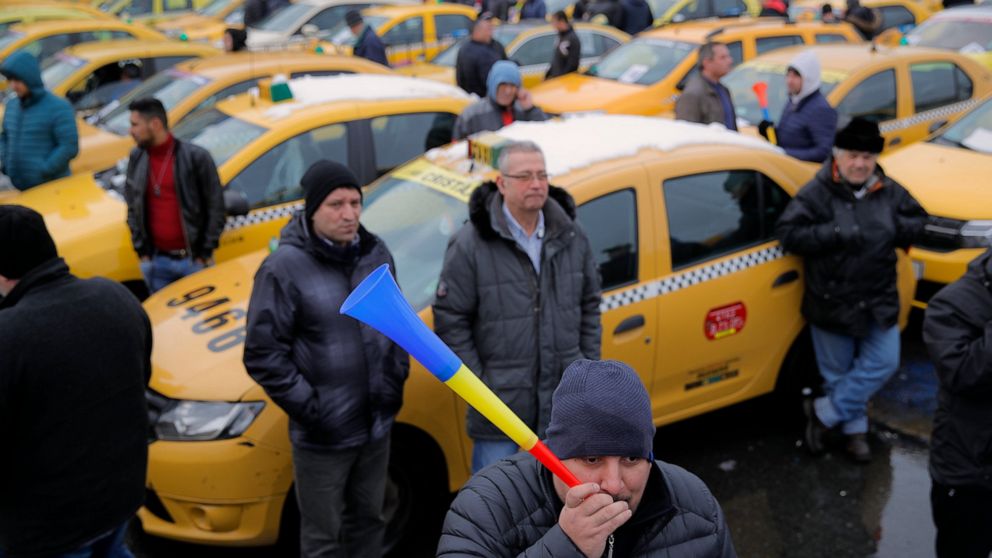 Taxi rides can be a tricky/unpleasant experience in some Eastern European countries. I couldn't find any taxi app in Sofia and Varna that actually worked well during my trip to Bulgaria. I tried to use the 'Taxi Me' app in Sofia. The 'Taxi Me' app has a very bad interface and the language of the app is Bulgarian. Even if you manage to maneuver around the app, the app takes forever to find you a matching ride. I gave up after trying the 'Taxi Me' app for 10 minutes.
Unlike Bulgaria, booking a Taxi on Free Now and Uber is quite easy in Romania. I used Free Now in both Brasov and Bucharest and it worked really very well. Further, I made the payments using Google Pay that was linked to my 'Free Now' app. 'Free Now' is currently in operation in 9 Romanian cities (Bucharest, Cluj, Brasov, Iasi, Constanta, Sibiu, Oradea, Timisoara, and Targu Mures).
Here are the Taxi apps currently in operation in Romania: Clever Taxi, Star Taxi, Uber, Free Now, Bolt (earlier called Taxify). Yandex has stopped its operation since 2020.
Bolt operates in 8 Romanian cities (as of 2022): Bucharest, Cluj-Napoca, Ploiesti, Timisoara, Iasi, Brasov, Constanta and Galati.
If your Google Pay is not linked to 'Free Now' or Taxi apps, then make sure you have cash with you as a lot of Romanian taxi drivers don't accept cards. Free Now allows you to tip x% of your fare as a tip if your taxi driver asks you to pay a tip. So, I would say linking Google Pay to your taxi app is a great option.
Most of the taxi drivers are honest (based on my experience). I had one bad experience with a taxi ride in Bucharest where the driver compelled me to pay a tip. I have told you about this in Tip 4. Tipping culture in Romania.
If you are in Romania, don't use old-fashioned taxis that don't use meters. Be very scrupulous of private taxi services for transfer between two cities. They can scam you if you haven't negotiated the price earlier. So, negotiate the price in advance if you have to take a taxi that doesn't run on meters or you are booking a long haul private taxi between two cities.
To your assurance, Romania has started initiatives to regulate its taxi system. Fining taxi drivers for refusing trips has been a subject of discussion in Romania in the last few years. In 2019, a law was passed to fine taxi drivers without a license. It has definitely made things better in the last few years.
The Bucharest municipality has gone a step ahead by passing a law that bans taxi drivers from talking about politics, religion, and sex with their clients.
If you are visiting Romania for a week or two, try sticking to taxi apps for travel within the city and use public transport for intercity transfers.
7. Public Transport and City Passes
8. Internet, WiFi, and Telecom services
9. Erotic Massage and Spas in Romania
10. Crime and Corruption in Romania
If you are a foreigner, don't pay bribes to traffic police or local authorities. You may be prosecuted as the patrol vehicles have cameras installed that track your activities.
Conclusion
I would definitely visit Romania again. I had lots of wonderful memories during my first visit to the country. I couldn't explore the Corvin castle and several other wonderful castles in Transylvania during my trip. Further, a lot of pubs and nightclubs were closed due to COVID-19 restrictions. I visited Romania in November 2021.
There are lots of blogs that often spread misinformation about Romania. Through this blog, I would like to tell you that Romania is a very safe country. My boots were stolen from my Airbnb in Budapest, Hungary. My taxi driver canceled the taxi after 10 minutes of accepting the ride in Lisbon and I almost missed a bus. My friend was mugged in Paris. One of my friends was robbed of €50 while trying to buy sexual services in Prague.
Considering these facts, I found Romania very safe. It has amazing castles, beautiful Carpathian landscapes and interesting places to explore. I hope these tips help you explore Romania better. Romania is a very under-rated travel destination in Europe.
Latest posts by SurajPanigrahi
(see all)