Read Time:
7 Minute, 1 Second
The Indian banking crisis has been a cause of worry for the last decade. From more than 20 nationalized banks at the start of the Millenium to just 12 nationalized banks today, Indian banks have had a hard time getting through in the last decade. Currently, there are 12 nationalized banks, 22 private banks in India, 56 regional rural banks in India, and 46 foreign banks in India. Yes Bank was the fourth largest private sector bank in India in 2018 in terms of assets and market capitalization before it filed for bankruptcy in March 2020. The Yes Bank crisis brought to the limelight the darker side of the Indian banking industry and how deep the roots of corruption can go.
From its commencement in 2004, the bank took just 13 years to be a part of the S&P BSE Sensex index which consists of 30 top-notch companies in India from various sectors. The high growth rate of the bank can be attributed to an overambitious CEO Rana Kapoor, and Yes Bank's quick and easy loans to its corporate clients.
6 Reasons for the Yes Bank Crisis
1. Bad Loans
The 2008 financial crisis was an opportunity for Yes Bank which capitalized really well. While other private lenders in India were closing doors for many businesses, Yes Bank turned out to be a messiah for them.
Nevertheless, these easy loans during the early stages of its growth later became bad loans and Non-Performing Assets (NPAs) which led to its downfall in 2018, just a decade later of the 2008 financial crisis and recession.
Yes Bank extended loans to failing organizations like DHFL, Cafe Coffee Day (CCD), Essel Group, Reliance group of industries owned by Anil Ambani. The suicide of VG Siddhartha, the founder of CCD, due to INR 2700 crores of debt is now well-known news.
Yes bank gave loans to companies that didn't have creditworthiness.
2. High Credit to Deposit Ratio
3. Fraud and Money Laundering
4. High Non-Performing Assets (NPAs)
In its Annual Financial Report for the FY 2019-20, Yes Bank had shown 3.2% Gross NPAs in its financial statement. However, a year later the Gross NPA filed was 16.8%. Such an Indian banking crisis speaks volumes about the level of corruption and fraudulent practices prevalent in the banking industry.
There was a discrepancy of more than INR 3000 crores between the Non-performing assets (NPAs) that Yes Bank revealed and the actual NPAs.
5. Overexposure to Shadow Banks
Non-Banking Financial Companies (NBFCs) account for nearly 43% of the housing loans in India while banks account for roughly 57% (as in FY 2019). These NBFCs charge higher interest rates than the banks but the loans can be availed relatively easily from the NBFCs than the Indian banks.
On the other hand, these NBFCs registered with RBI can borrow loans from the banks based on their credit quality. So, at the end of the day, it is the banks that provide credit for the home loan indirectly.
Well, NBFCs also raise funds through private equity and venture capital firms. The point I want to make is that banks have huge exposure in several NBFCs. Several of these NBFCs operate through shadow financial organizations.
Yes Bank had overexposure to failing NBFCs with high NPAs like DHFL, Reliance Capital, Religare Fintech, ADAG NBFC, Piramal Capital, Edelweiss, IHFL, and SREL. When Reliance Capital defaulted Rs 1417 crores to Yes Bank, it triggered the insolvency process of Yes Bank.
6. Overexposure to Commercial Real Estate
More than 25% of all loans from Yes Bank were extended to the NBFCs and real estate companies.
The problem with overexposure to real estate projects is that these projects often get stalled leading to a mounting of interest. The recent cases of Jaypee Dream Home and Amrapali Real Estate Group are classic cases.
The shares of Yes Bank Ltd. fell from their All-Time High (ATH) of INR 382 to INR 5 in March 2020. That's a stock crash of 98.7%. Currently, the shares of Yes Bank are trading at a mere INR 13.70 (as of writing on 07 February 2022).
In 2020, RBI took extreme measures and devised a plan to restructure Yes Bank. A moratorium period of 9 months was imposed on the bank. There was a focus on recovering the bad loans, increasing the liquidity and capital adequacy to 20%, and increasing the deposits.
Investments were raised through selling the stakes of Yes Bank to SBI, ICICI bank, HDFC, and some other institutional investors. State Bank of India (SBI) first infused INR 6,050 crore into Yes Bank for a stake of 48.2%.
As of Q1 2022, Yes Bank's turnaround story seems promising as the bank has seen increased deposits, growing credit demand from MSMEs, and increased Q-o-Q profits.
Reasons for Bank failures
1. Reckless lending
The primary reason for bank failures is that banks give out huge amounts of loans recklessly without evaluating the creditworthiness of the entities, or evaluating the bank's self-liquidating position.
2. Corporate houses
The banks which solely focus on the big corporate entities without targeting the local men and retail customers generally end up granting loans of huge amounts and lose their liquidity value as the big corporates are sometimes unable to repay loans and were declared insolvent for which the Indian banks suffered the most.
3. High NPA
When a bank gives out a loan to an entity or an individual who is unable to pay back the loan even after 90 days then that entity or individual is declared as a Non-performing asset (NPA's). When the Non-performing assets (NPA's) of a bank increases it is regarded as it is failing and vice-versa. When huge amounts of loans are given to big entities and those entities are unable to repay the loan amount they become NPA and the banks suffer indefinitely.
How Can Indian Banking Industry Revive?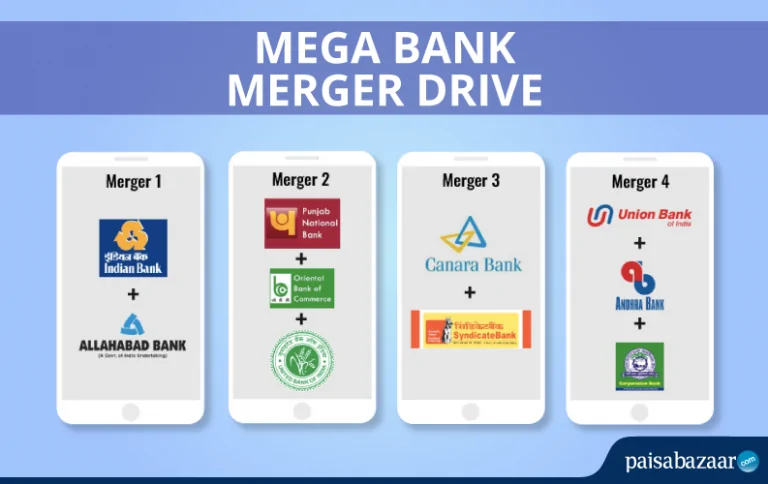 Poor management, bad governance, fraud, and corruption have led to the collapse of the banking and several other non-banking sector financial institutions. People in India have gradually lost faith in the banking system.
1. Mergers
The last decade saw several mega-mergers resuscitate the health of failed banks.
2. Retailisation
If you have ever been to the State Bank of India branches, you would have to wait in queues to get done something. This shows that there is ample opportunity for private banks in India.
The newly merged banks should be focussing on retail customers and microfinancing as a way to win depositor confidence and . The microfinance sector is growing at an annual rate of 6% in India.
In fact, Yes Bank has been successful in improving its CASA ratio by 52% in 2021 as compared to 2020 when SBI and other banks infused large sums of money into it. Yes Bank offers a whopping 6.5% interest rate on fixed deposits which is significantly higher than the State Bank of India's 5.1% to attract more retail account holders.
3. Digital Banking
As a bold move, the banks should abolish the printing of bank passbooks and eliminate the machine that prints them. Further, the banks should not issue new passbooks for current and new customers as printing a passbook in the era of digitalization is very redundant. This would force people to move to the digital turf.
4. Microfinance
MSMEs and small businesses usually have a hard time finding loans for their projects. The microfinance sector has a huge opportunity in India. In the 2019-20 financial year, the Indian microfinance industry (MFI) grew by 31% before the growth rate in MFI slumped to 6% in 2021 due to the COVID-19 pandemic.
It's okay to have a few small bad loans than to have a massive bad loan from a corrupt businessman. Microfinance will not only help small businesses but also take banking to the grassroots level.
Latest posts by SurajPanigrahi
(see all)